How to open Kids Café and attract customers from the day one

How to open Kids Café and become popular recreational area among children and their parents. How to make Kids Café interior attractive, cozy and profitable at the same time.
Location
It is very important to consider a set of factors when choosing a location for Kids Café: infrastructure, visitors traffic, competitors, surrounding area, proximity to metro and bus stations, etc.
First of all, pay attention on commercial real estate, which is located not far from the places that are so popular that children and their parents visit them on weekdays as well as on weekends: circus, fun fair, mall, puppetry, zoo, aqua parks, or any other entertainment facilities of this kind.
To find an appropriate place to open Kids Café means great attendance and significantly reduced marketing cost.
Outdoor advertising
Visitors "off the street" are mostly the main source of income for Kids Cafes. Thus, an outdoor advertising project would be a crucial factor for continuous customers flow. Outdoor advertising includes all information, located externally and aimed at visual perception. For example
Clear signboard;
Attractive display case;
Billboards, posters, flags and directional signs (placed at a distance 300-500 meters), etc.
It's a modern trend: the more outstanding advertisement you have – the more visitors you get.
Façade and show-window
Façade is the main architectural element of commercial buildings. It is not only a "face", which makes first impression about the building, but also an integral part of its success. Attractive façade of Kids Café influences on its popularity and attendance.
A bright, clear and shining show-window is the major element of modern Kids Cafés façade. It creates the first impression about the café. A show-window allows for locating necessary information without occupying useful space of the café.
An empty show-window, without advertisement materials, doesn't attract passers-by attention and therefore doesn't work for sales increase. Kids Café with empty show-window or show-window, filled with useless information, loses profit every day.
Efficient interior of Kids Café
Each child dreams of getting into a fairy tale. Kids Café is a place where dreams come true.
How to create an atmospheric interior in Kids Café:
Build cartoon-inspired decorations to make an impression of being a part of a fairy-tale;
Purchase atmospheric furniture;
Make atmospheric illumination;
Purchase dishes for kids, matching interior design.
Dress your personnel as cartoon characters.
It is typical for kids not to stay at a table for a long time. Make several play spaces to ensure fun time for children and dinner for their parents. A café with several zones will provide comfortable leisure time to children of all ages.
Ensure comfortable conditions for parents with babies:
Put a changing table in a restroom;
Make nursing rooms;
Make an informational poster about hygiene goods for babies that can be bought in your café: diapers, wet wipes, etc.
Inform visitors that they can warm up baby food for free.
Children's dishes
Dishes in an element of interior. When selected correctly it decorates a table, as well as becomes an efficient advertisement tool.
Dishes that decorates Kids Café interior:
Shaped as a toy or painted with cartoon heroes;
Matche interior theme and colors.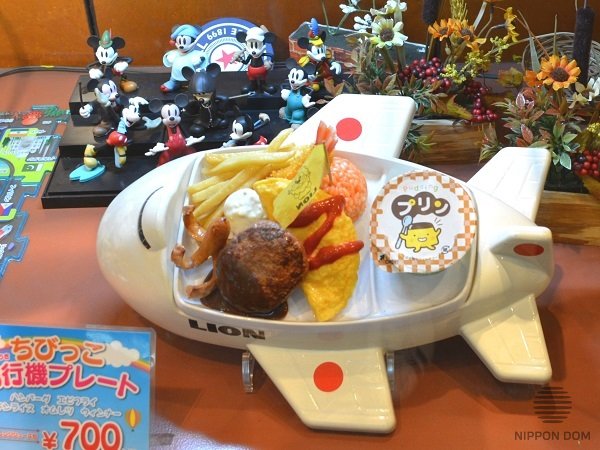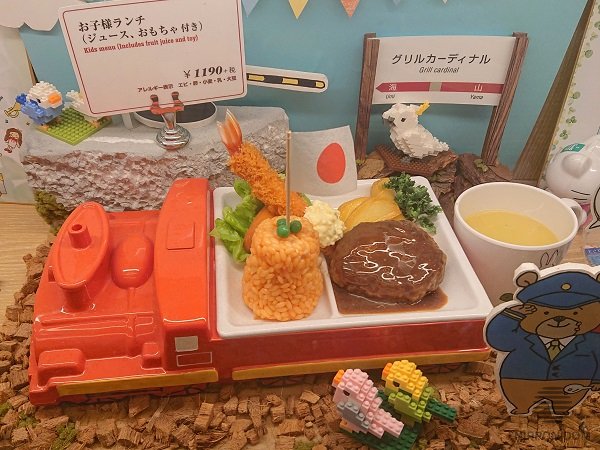 You can buy dishes for Kids Café from Japanese manufacturer online.
SELECT JAPANESE DISHES OUT OF A WIDE ASSORTMENT
Nutritious meals with a fairytale design
Meals in the cafes for little ones must be balanced, nutritious and attractive as well. It is perfect if meals appearance matches café theme, and if you use bright colors and shapes of fairy tale characters.
On-table menu
On-table menu is a great addition to menu items replicas by the entrance. Visitors will find the meals they selected by the entrance, in the on-table menu. Thus, they spend less time to make an order.
In order to make printed menu clear for your young visitors, put big pictures of the meals in it. The pictures help children to choose a meal themselves, with minimal parent assistance. Children tend to eat a meal more willingly, if they chose it themselves.
A piece of advice from the owners of Kids Cafes in Japan: when you offer a menu to the visitors, give it to the child first. A child should know that this café is for him/her.
Increase profit with additional services.
You did your best to attract clients. The following tasks are not only high-quality service and nutritious menu. It is also important to create a greater variety of services, which will increase average bill and make additional profit.
1. Photoset background
An outstanding background for photoset will give bright memories and make visitors want to come back to your fairytale café.
A person in your staff who is familiar with photography can make photos for those visitors who don't have camera with them. This will also make additional profit for the café.
Develop an outstanding branded design of photo frames. This will significantly increase the number of those who want to take photos.
2. Music show
Daily "music show" will make your café popular in any weather and any day of week.
When interviewing new personnel pay attention on candidates with artistic or teacher education. The personnel will be able to combine responsibilities of waiters and show actors.
Professional staging, along with bright costumes and clear sound will make the show truly memorable event for children and their parents.
Colorful decorations will require investment. But the show will attract visitors and increase profit of the cafe. Investment will eventually pay off, costumes and decorations can be used for years.
Invite your little visitors to take part in the dance that finishes the program. The enthusiasm after communication with fairy tale characters remains for a long time. Your visitors will share it with their friends and families. Positive feedback of happy clients is the best advertisement.
3. Children's goods shop
Put a mini shop in a separate zone, by the cash register. This will improve service and increase average bill.
Include the following into the assortment:
Souvenirs, keychains, toys, matching the café  theme;
Necessities and hygiene goods for children;
Cookies, candies and other sweets, packed in pretty boxes;
Branded dishes of your café, which will remind kids of magic moments that they had there.
Create a Dream Café for children and your own dream of popularity and stable prosperity will come true too.