Russian cuisine – First courses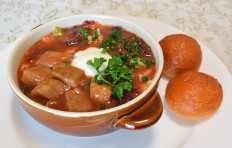 Food replicas of the first course dishes of Russian cuisine
The food replicas of the first course dishes of Russian cuisine play an essential role in decorating the showcase with a visual menu.
A variety of ingredients of the first courses make the replicas appetizing, and the showcase looks a lot more attractive.
Rules for decorating the showcase with fake first courses:
Place the fake first-course dishes on the middle shelf of your showcase. Appetizing replicas in the center of the window will brighten the facade and attract passers-by attention.
Place the fake first dishes on one shelf. Then the visitors will be comfortable to see the full range of your first courses at once.
Put a sign with written name and price of the dish in front of each food replica. It will help to remove the customers doubts and affect their decision to enter your restaurant.
More details about the rules for decorating a showcase with the fake dishes you can find in the article "Free consultations on building a selling showcase".