Fake Food Dishes custom-made as shown in your photos
Catering establishments' windows and showcases, decorated with silicone food replicas are the main method of visitors' attraction in Japan. Researches of Japanese marketing specialists have proved its efficiency numerous times. This method tops the list of advertisement tools in Japanese catering establishments over 80 years.
Replicas of food and products, displayed in the showcases of a restaurant or café are the most efficient way of visitors' attraction and sales increase. Delicious-looking replicas are a strong instrument of influence on human subconscious, which makes potential client take a decision to enter the restaurant.
Establishment's showcase, decorated with food exposition turns ordinary passers-by into real visitors. According to Japanese surveys, about 40% of those who came to the showcase just to have a look at delicious-looking replicas, eventually enter the restaurant and make an order.
Food replicas in showcases ensure that catering establishment's income will increase starting from day one of display, because they: attract new clients; attract more regular visitors; increase average bill; reduce time of order and save advertisement budget.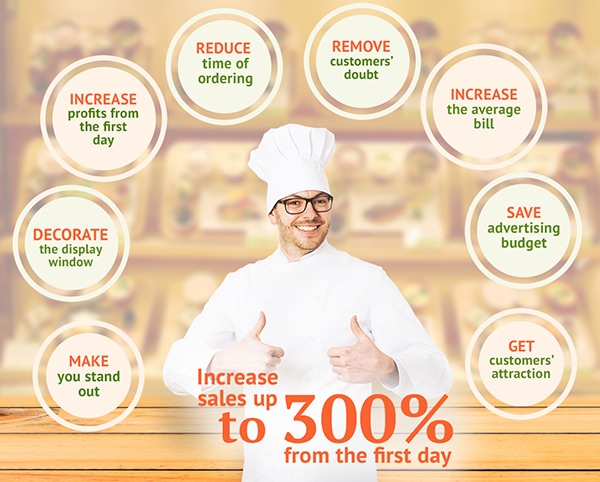 About Nippon Dom
Why restaurateurs prefer Japanese fake dishes made by "Nippon Dom"?
Best quality
Experience in the fake food production since 1932.
Hand-made work of top-class Japanese craftsmen.
The best materials
Unlimited lifetime at temperatures from -50 to +100 ° C.
Unique materials are developed in the factory's own laboratory.
Best warranties
One year quality assurance.
Expert evidence issued by the state inspection authorities of the Russian Federation.
Fake food dishes is an effective marketing tool
Where are fake dishes most efficient?
In RESTAURANTS, BARS, CAFES and other catering establishments for decorating showcases with a visual menu;
In SUPERMARKETS and SHOPS for decorating the shelves.
For DEMONSTRATION drinks, desserts, meat, fish, and other perishable products. Indispensable for the ready-made dish presentation, semi-finished and frozen products sales
At PRESENTATIONS, MASTER CLASSES and restaurateurs schools to demonstrate the appearance of a product or dish;
On EXHIBITIONS for the product presentation of food factories;
In household SHOPS to create an attractive product and presentation of its capabilities;
In PHOTO and TV STUDIES as props for long-term use in the filming of commercials, movies, and photo sessions;
IN MUSEUMS for creation of grocery compositions.
Showcases that increase the profit up to 300%
How to buy? What is the price? How long does it take to produce?
See the frequently asked questions
Buy Japanese fake dishes in any country in the world!
We accept online orders;
No restrictions on the number of products;
We will make fake dishes as shown in your photos if you do not find the right product in our catalog;
We deliver the order directly to the address you specify;
We provide unlimited free consultations.
We work without days off!
How to get a discount on your order?
Use up to 20% discount and free shipping bonus
Read the testimonials of successful restaurateurs,
who designed their windows with Japanese fake dishes