European cuisine – Salads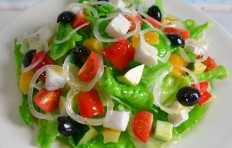 Fake European salads
It is a good idea to inform your potential customers that you have some lovely European salads in your menu. Just place fake salads in the showcase,  and they will awaken the appetite and "warm" your visitors for a hearty meal.
"Nippon Dom" produces fake European salads for restaurants. Our customer's testimonials and photos of completed orders confirm:
100 % similarity with the original;
Excellent quality.
Please send us the pictures of European salads you need or order our ready-made replicas from the online catalog.