Dishes retail. How to increase income to 300% per month.

Dishes retail and wholesale – how to attract clients, increase average bill and reduce marketing costs.
Successful trading depends not only on goods. Now, when competition on the market is so intensive, it is not enough just to have high-quality goods. You need to find a customer for them. Competent acquaintance of goods and customers is a crucial condition for goods retail.
Each seller has to solve 3 consequent tasks for effective trading:
attract customers attention;
make customers interested in purchasing;
increase average bill.
Dishes retail by means of Japanese technologies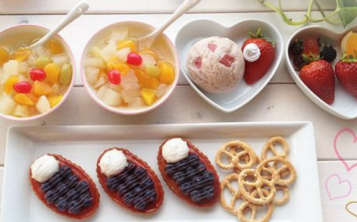 A unique Japanese technology is gaining popularity over recent decades: it uses silicone replicas of food and drinks to attract clients and increase sales at catering services facilities.
Sellers of tableware and kitchen appliances borrowed this marketing instrument and successfully use it to represent their goods.
Replicas of delicious food, placed in the plates, increase dishes retail to 300% per month!
For they:
attract customers to 150%!
increase average bill to 120%!
reduce marketing expenses to 70-80%!
Свяжитесь с нами онлайн чтобы приобрести муляжи блюд
How food replicas increase sales of dishes stores
They attract customers.
Unlike empty dishes in showcases, plates with delicious food attract customers' attention. The more people come to the showcase, the more possible it is that they purchase something.
They make people want to buy dishes.
Japanese hand-made replicas are identical to real food and drinks. Plates with delicious food look extremely attractive. And they make people want to buy them either for themselves or as a present.
They dispel customers' doubts.
A part of print on plates is usually covered with food. Food replicas demonstrate how plates will look like, when filled with food. Clear presentation helps clients to make a choice of plate design and to buy them with no doubts.
Increase average bill.
Visual demonstration of tableware stimulates customers to buy dishes sets.
For it:
demonstrates vast assortment of goods;
demonstrates usability of each item in the set;
demonstrates size of portion, that can be put in the plate.
They save store budget.
Seller doesn't need to explain to the customer how to use set items. Replicas do it. So the store needs less sellers, which reduces salary expenses and increases income.
They distinguish you from competitors.
Clients love high-quality service. When they have a choice, they prefer to purchase dishes in a store where they clearly see assortment and future table arrangement.
Свяжитесь с нами онлайн чтобы приобрести муляжи блюд
Dishes wholesale at HoReCa expo by means of visual presentation
They attract attention of wholesale customers.
Suppliers of kitchen utensils and tableware take part in HoReCa expos to find wholesale customers and to enter into long-term contracts. It is hard for participants to distinguish themselves from competitors and to make customers interested, considering vast assortment of goods and number of participants.
Food replicas contribute to maximum clear presentation and attractive showcase. Visitors are always interested in the exhibition stand with dishes, which shows how to use each plate. They study the assortment and are very interested in the goods.
They clearly demonstrate goods.
Prior to decide, which dishes to choose, wholesale customers have to spend pretty much time to study dishes characteristics and numerous offers from suppliers.
Visual demonstration shows how to use each item of the set, as well as size of portion for each plate.
They increase sales.
Visible presentation makes it easier for customers to choose suitable dishes. It also contributes to increasing sales of manufacturers.
According to expos participants, dishes presentation by means of food and drinks replicas, increase number of contracts to 120%.
They save marketing budget.
Successful manufacturers of dishes often hire a chef, in order to put cooked food in the plates and to demonstrate their usability. Such kind of presentation involves additional expenses and certain discomfort. Food replicas save presentation costs, due to the following:
there is no need in additional equipment: stove, fridge, sink, cutlery, etc.
you don't have to pay for chef services;
products are not wasted.
Food replicas are purchased just once and can be used at all expos, because they are:
easy to transport. Replicas are made of sustainable material. They don't break or crack, and can sustain any differences of seasonal temperatures;
replicas useful life is 30-50 years.
In spite of serious competition, dishes retail is a profitable business. All you need is to choose effective way of retail.
18.01.2015/ Irina Myronowa