Proper supermarket design or the first step to high sales
The emergence of a new supermarket has recently become commonplace in the life of every city. Everyone knows when shops open they offer attractive prices for their promotion. Therefore, a lot of people come to get to know the new supermarket.
Opening a new supermarket is an important event not only for the owner and the staff, but also for customers. If potential buyers do not like your shop, they are not likely to come. Therefore, before opening a supermarket, it is important to take into account all components of good design.
Supermarket design
Supermarket design includes:
the overall supermarket design
the location and shelves design
a well thought out and convenient shopping route
One of the important elements in the design is the location of shelves. Location and design of shelves as well as product display influence sales and profit of the supermarket respectively.
Most customers decide what to buy when they are already in the supermarket. Therefore, the proper placement and display of goods are important to stimulate sales. Only logically thought out shelves design allows you to create a convenient route for customers and a profitable route for you.
Recently, the increasing competition in all sectors of the food industry has made the product range grow considerably. This allows to fill the supermarket with a large quantity of different products. For easy orientation of the buyer in the sales area products should be arranged in sections. Location of sections usually depends on the supermarket design but there are recommendations that are common to all supermarkets and shops:
The following goods should be placed closer to the entrance:
of a lower price category
those that don't need to be kept at a constant temperature (vegetables, bread). This is related to the fact that when the doors are open it is difficult to control the temperature inside on hot summer days
with a discount
Shelves design and product display
Proper decoration of a display case and shelves influences the demand for goods. Even if the visitor was not going to buy any product, proper display of goods will make him make a purchase.
The shelves design has its own rules. If you follow them, you will achieve best results in sales.
Clean shelves. There should be no smudges, dust or water stains. Clean shelves inspire confidence in the quality of products and make you want to make a purchase.
The place on the shelf which is located at the height between the chest and shoulders sells best, as it is most convenient for viewing and it is easy to take items from it. This place is called the "golden zone". It is necessary to put the best-selling product there.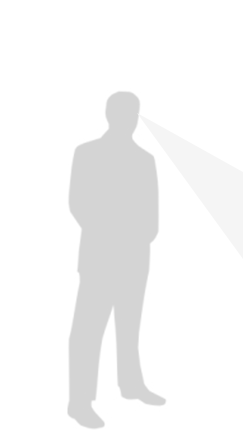 1.8 m

Inconvenient to take, poor view
Additional supplies of goods (small and lightweight), food replicas

1.5 m

Good view, convenient to take
A range of the best-selling product, related goods

0.6 m

Golden zone
Excellent view, convenient to take
Best-selling product

0.3 m

Good view, convenient to take
A range of the best-selling product, related goods
Inconvenient to take, poor view
Additional supplies of products,        

large and heavy goods
The place on the shelves located higher than 1.8 m and lower than 0.3 m is the most inconvenient to see. Therefore, marketers recommend to put there unpopular products and an additional supply of goods that are located in the golden zone (these goods should be duly put in the golden zone).
The upper shelves should contain lightweight and small goods so that the customer is not afraid to drop them. Below you can put heavy products or goods in big boxes.
Goods that have specific target customers should be placed at the appropriate height. For women it is shelves located at the height from 0.6 to 1.5 metres. Men's products are above this area, children's are below.
The best shelves design is where goods of the same category are located vertically. Customers should see the whole range of the product, its appearance and price. It is important for customers to have the opportunity to see and choose items standing in one place. Typically, this area is 1.2 m wide. In some cases, the location of the range of one product can be increased to 1.8 metres.
Goods in the golden zone sell quickly, so these shelves should contain a larger amount of the same product.
The height of shelves should match the height of goods. Products look more beautiful when there is no empty space above them.
Goods should overlook the customer. During the day, customers take items from the shelves and don't always put them back in the same position. Therefore, always check shelves with goods and fix these problems.
When goods are sold there is free space on the shelves. Check the shelves and move the product closer to the customer.
Goods with an earlier expiration date should be put in the foreground.Those with a later expiration date can be placed deep on the shelf or in the display case.
At the end of the shelves you should place a product that needs to be sold urgently. This item is either expiring soon, or is being sold with a discount now.
When designing shelves it is important to take into account the relation of products to each other. For example, in the section with pasta put sauces and spices used for cooking it. Meat sections should offer sauces for meat. The same product can be placed in several sections. If customers have passed sauces in a special section, they will remember to buy them if you put them next to the meat.
Using food replicas in the supermarket design
If it is impossible to put fresh products on display, it is best to use their replicas for this purpose.
have a realistic appearance that attracts customers
do not spoil and do not lose their colour
The customer cannot distinguish fake food items from real products. It is no longer necessary to put fresh products on display regularly, as real products can lose their appearance quickly and spoil.
If you use food models  to demonstrate  your goods, you can also show cut products so that customers can see the filling.
Recently there appeared sections with products that are cooked directly in the supermarket or at the request of customers. In such cases, fake food dishes play a key role, since it is necessary to show beautiful dishes that are not made yet.
Proper shelves design in a supermarket and an elaborate product display are certain to give the expected result.
Do you want to create supermarket design which increases sales?
Is your dream a constant flow of customers and increasing profits?
Decorate display cases and shelves in your supermarket with replicas of products and dishes!
The Japanese company "Nippon Dom" will make fake food items that will increase your profits. View plastic food models in our online catalogue or place a custom-made order.
Contact us by phone or ask a question by filling out the form on the website. We work 7 days a week. We answer your questions at any time!