Dishes replicas quality is a guaranty for sales success
Dishes replicas quality is a crucial factor for a restaurateur if he or she decided to arrange a display case.
The main reason to use dishes replicas is to increase restaurant sales.
The main function of dishes replicas is to evoke visitors' appetite.
Attributes of a top-quality replica:
100% similar to the real dish. Visitors hardly believe that the dish is fake while looking at it in the showcase;
Precise imitation of each ingredient appearance in the dish (shape, color and texture);
Replica is brighter than real products. Bright colors are used to make it more attractive and delicious-looking.
«Nippon Dom» replicas quality contributes to your sales
We fabricate replicas using a unique Japanese technology of compounding plastic pourable silicone. It allows for keeping their shape after consolidation even at a temperature of 100 ℃ and higher!«Nippon Dom» replicas passed long-standing tests and got much appreciation while being used in external showcases in hot Africa and severe north.
Totally manual labor of experienced highly-skilled Japanese professionals guaranties for excellent quality.
Each replica is up to 100% similar to the original dish: shape and texture of each product are imitated precisely: roughness, bending and every tiny fold. Foam and bubbles in the drinks replicas accurately imitate "living" product and look incredibly realistic and natural.
Japanese materials useful life is unlimited
Unique chemical formula of materials is developed in laboratories, owned by the factory. Laboratory staff continues improving material's specification, considering factory workers comments and global chemical industry resources.
Replicas are made of high-impact silicon. They are:
shatterproof;
waterproof;
sustainable to temperatures from -50 to +100 °C;
easy to wash.
Blending colors with silicone and covering the product with paint is one of challenges we experience, while working with silicones.
A perfect color shade, which gives replica its perfect appearance is achieved through a unique method of painting, developed in factory owned laboratories, as well as wide palette of colors.
Information about chemical formula of materials is classified. The company DOES NOT sell materials of replicas manufacturing technology.
«Nippon Dom» warranty is your confidence and comfort.
«Nippon Dom» products useful life is unlimited. If a replica breaks, gets out of shape, or cracks in a result of seasonal temperature extremes, we will replace the replica for free.
Requestor and manufacturer sign a contract, which provides detailed description of order and warranty terms.
How to distinguish between top-quality and low-quality replica?
The main criteria of top-quality replica is appetite evoking. Which means it captures person's subconscious and "leads" the person to the restaurant. It contributes to better visitors' traffic and average bill increase, which results in higher profitability.
Similar replica, made of cheaper materials, informs a passer-by about your cuisine and portion size. However, it does not have power to make a person enter the restaurant.
Compare these 2 replicas:
On the left — a replica from Japanese specialists;
On the right — a replica from other manufacturer.
How long is a food replica made?
In order to imitate appearance of each product in the replica (bending, tiny folds, roughness, etc.), silicone is made as liquid as possible. It takes some time for liquid material to consolidate.
Thus, fabrication time of replicas for a standard restaurant showcase is 1-1.5 months. Large orders (more, than 100 dishes) may require 2-3 months for fabrication.
Delivery time is 7-15 days. If customs formalities are required in customer's country, delivery may take up to 25 days.

More information on how to place a custom-made order can be found here
Testimonials from our customers about the quality of our food replicas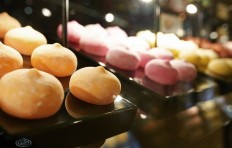 When we received our first batch of food replicas, there was no bound to our delight. "They look like 'alive'", our Director of Marketing said and ran to organize a photo shoot.
Fake food items are impeccable in sales. Even under professional light on display there is no doubt that the 'product' is natural. The colours match perfectly and fully correspond to our request.
Vitaly Zhigao, Moldova
---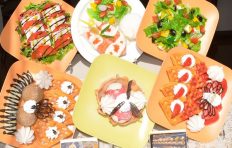 Today we have received two parcels from Nippon Don. All the food replicas came unbroken. Thank you very much for your work! Everything is made with very high quality and looks incredibly beautiful!
By summer 2016, we will open our second café "Bouillon Baton."
We look forward to continuing our cooperation with Nippon Dom.
Andrew Zhavoronko, Khabarovsk, Russia
---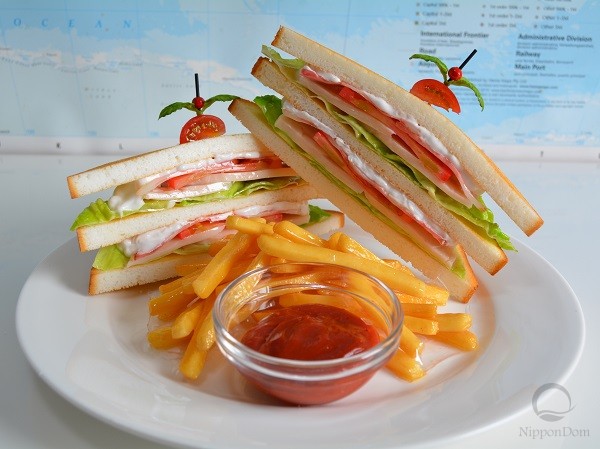 Irina, good afternoon!
We have received the packages, everything turned out to look very beautiful.
Thanks a lot!
Cafe "Lazio", Vladivostok, Russia
---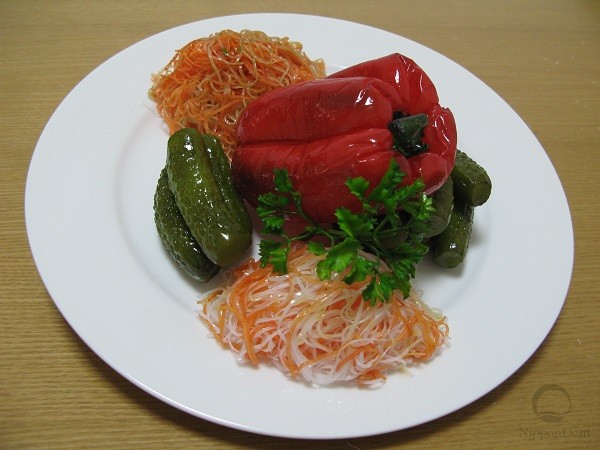 Irin …We received the packages. The shipping was good. You work looks good. The soup fits our bowl perfectly. Children's chest is wonderful. Thank you very much – you and the craftsmen! The day after tomorrow we are planning to put them on display and I'll immediately send you photos.
Irin, hello. The owner came back and he liked your works very much. We decided to continue ordering fake dishes from our menu. I am planning to order 15-20 dishes next time.
… Thanks for the answer … sales are growing as we expected …
Irina Kriventsova, Ryazan, Russia
---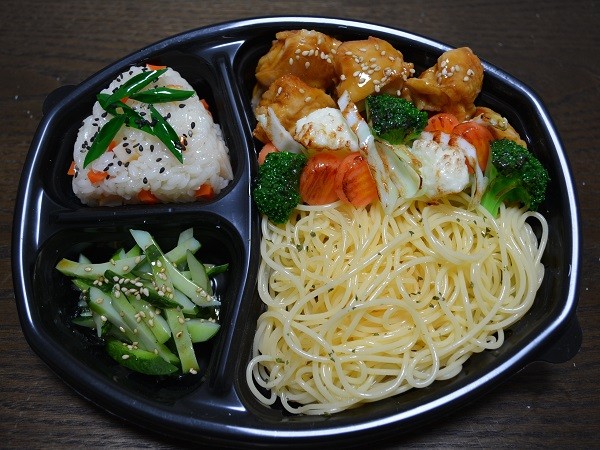 We got food replicas. Thank you! Everything is very similar and appetizing!
"Black Crab" looks cool.
California and supercranch look good.
Sunset doesn't look very good since sauce should be bright red (and now it doesn't look so good).
We opened a second fast food restaurant but we put on display only a few food replicas because the showcase isn't ready yet. When we finish – I will send you photos.
Thanks again for the fake dishes.
Igor Gurevich, St. Petersburg
---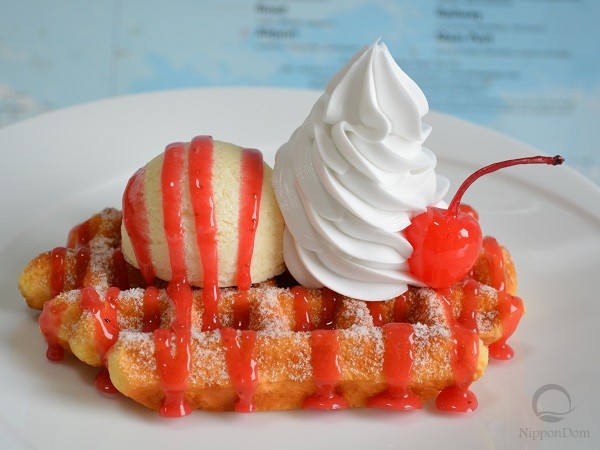 I've received the package. Thanks a lot.
Waffles and sauce turned out to look amazing!
There are several remarks that need to be taken into account in the second batch.
The main remark is that the cream looks like soft ice cream, there is no lightness in it because it is smooth but if you look at the texture of cream, it is ribbed.
In addition, it will be necessary to adjust the size of ice cream and cream :)
AndreyKokin, Nizhny Novgorod
---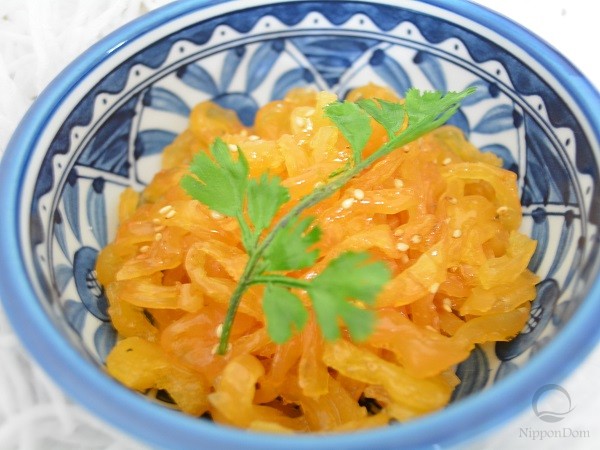 Hello,
Thank you for following up with us. The jellyfish salad dish was a big hit. Our Vice President of Marketing says it looks exactly like the dish she tried while vacationing in Japan!
Thank you again for being so kind to work with us on this important part of our exhibit.
Amy Kishaba,USA.
---
Good evening, Irina!
We have received the goods, the quality is excellent. Thank you!
SergeySilin, Lyubertsy, Moscow region
---
Irina, good afternoon!
Thanks for the crabs. We liked them very much.
Olga Nikitenko, Vladivostok
---
Irina, hello!!!
I received the package on Sunday, everything is great, and I am very pleased, thank you!!!
Alexey Petrov-Vodkin, Engels, Saratov region